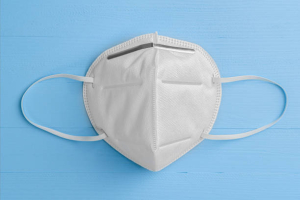 They will be available beginning on Friday in public libraries during their regular operating hours.
Frederick, Md. (KM) – Beginning on Friday, KN-95 masks will be available for Frederick County residents. That announcement was made on Thursday by County Executive Jan Gardner during her public information briefing. She says the masks can be picked up at public libraries during  their regular operating hours.
"So beginning tomorrow morning, when your local library branch opens–so it's within their operating hours–you'll be able to walk into the lobby and pick up a pack of five masks," she says.
Gardner says the KN 95 masks are free of charge while supplies last. Masks will be limited to one five-pack per household.
"Now there are some areas where local libraries are not open on Fridays and that's Brunswick, Emmitsburg, Myersville and Point of Rocks. So rest assured there will be masks waiting there on Saturday when those branches are open," says Gardner.
KN-95 and N-95 masks provide better protection against the Omicron variant of the COVID-19 virus, and are recommended by the US Centers for Disease Control and Prevention.
Health Officer Dr. Barbara Brookmyer says KN-95 masks can be reused, but they must be aired out. "If you put them in a paper bag, that can help keep them clean and gives it an opportunity to dry out," she says.
But using plastic bags is not advisable. . "Plastic bags can hold in any moisture content that is coming off your mask," says Dr. Brookmyer.
If the mask is dirty, damaged or difficult to breathe through, she says it should be discarded.
Earlier this month, Governor Larry Hogan announced that the State of Maryland will be giving out 20-million KN-95 and N-95 masks free of charge to any residents who wants one.
By Kevin McManus