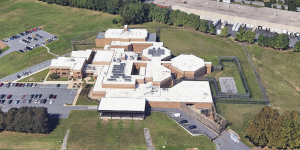 State Medical Examiner says inmate died from natural causes.
Frederick, Md (KM) The  cause of  death of an inmate at the Frederick County Adult Detention Center last year was natural causes, according to the Office of the Chief Medical Examiner's. .
The Sheriff's Office says Robert John Bitler, 49, of Hagerstown was found unresponsive in his cell just before 7:00 AM on October 7th, 2021. . Correctional officers performed life saving measures on Bitler, but they were unsuccessful and Bitler was pronounced dead.
Authorities say it appeared Bitler had some kind of medical emergency.
The Sheriff's Office Criminal Investigation Section has determined that the Detention Center staff followed all policies and procedures accordingly. Detectives say the staff made the required cell checks throughout the night, with the last contact at 6:47 AM. .
"This investigation affirmed that our correctional officers conducted all security rounds and followed all cell check policies and procedures," says Sheriff Chuck Jenkins, in a statement. "Along with the findings from the OSME, there is no reason to further investigate this matter and this investigation is closed."
Bitler had been arrested on October 5th, 2021 for violation of probation and was being held without bond.
By Kevin McManus