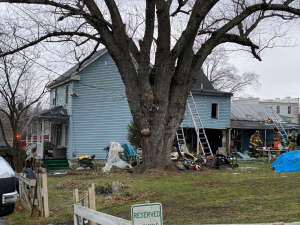 Fire fighters spent 45-minutes putting out the flames
Libertytown, Md (KM) Two adults were displaced following a house fire in Libertytown Friday afternoon.
Frederick County Fire and Rescue Services say at around 12:41 PM, fire fighters from Frederick and Carroll Counties were dispatched to the 12000 block of North Street for a house fire. First-arriving units found fire in the rear of the home as well as fire in the attic.
They requested a tanker task force and the Rapid Intervention Dispatch. Crews did a primary search of the home, and found that all occupants got out safely.
It took 45 fire fighters 45-minutes to put out the flames. Crews remained on the scene to check for hot spots and do overhaul. There were no injuries.
The two adults who were displaced are being assisted by the Red Cross.
Fire officials say 13 different stations sent personnel and apparatus to fight the flames. They include:
Libertytown
Walkersville
Woodsboro
New Midway
New Market
Lewistown
Spring Ridge
Junior
Valley Independent
Rocky Ridge
Citizens
Carroll County
By Kevin McManus