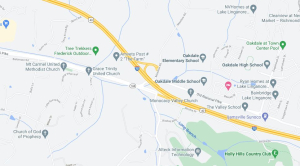 19-year-old pronounced dead at the scene
Frederick, Md. (DG) – A teenager was killed in an accident on Route 144 in Frederick County Tuesday morning.
Maryland State Police are reporting 19-year-old William Westmoreland was driving a 2019 Nissan Sentra at 7:40 AM in the 8500 block of Old National Pike in Frederick. He tried to pass several vehicles on the right shoulder, and crashed into a snowbank.
The Nissan then went across the double yellow line, into the westbound lanes and hit a Ford F150 pick up truck head-on.
Westmoreland was trapped in his vehicle and needed to be extricated by firefighters. He was pronounced dead at the scene.
The 53-year-old driver of the Ford pick up truck was taken to Meritus Medical Center for treatment of his injuries.
Old National Pike was shut down for 2 1/2 hours while police investigated the accident.