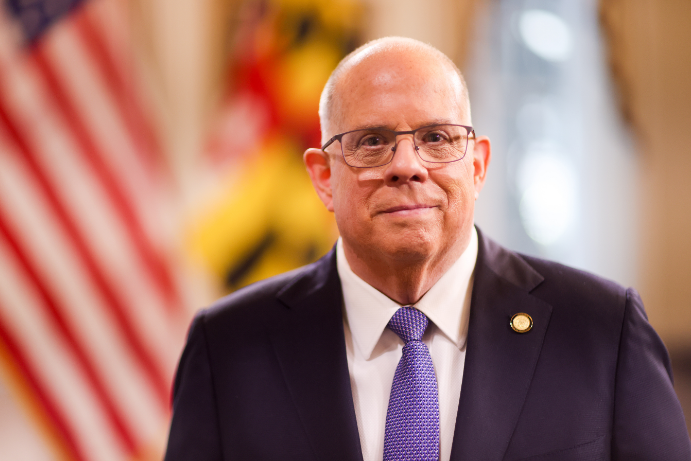 He says the recent state of emergency put in place for COVID-19 will be lifted on Thursday.
Annapolis, Md (KM) During the stare of  the state address on Wednesday, Governor Larry Hogan talked about how he's charged Maryland during his two terms in office. "Together, we have changed Maryland for the better by facing our fiscal challenges head on, easing the tax burden and paving the way for historic economic growth and job creation," he said.
In his comments, Governor Hogan said his administration has made record investments in education and Chesapeake Bay restoration.
The Governor also talked about his administration's efforts to battle the COVID-19 pandemic by bringing the resources of state government and public health to bear. "We mobilized the citizen-soldiers of the Maryland National Guard to lead strike forces into nursing homes to save the lives of our most vulnerable; to stand up surge tents at hospitals; to transport life-saving equipment; and to administer tests and vaccines.
He said these efforts have turned back the most recent variant of COVID-19, and the State of Emergency imposed in January will end on Thursday.
Governor Hogan delivered his address the Old Senate Chamber of the Maryland State House, where General George Washington resigned his command of the Continental Forces. in 1784 at the end of the Revolutionary War.
But with all the success in bringing the COVID pandemic in Maryland under control, Hogan said he his administration has made progress in turning around Maryland fiscal situation. "After seven years of fiscal discipline and responsible budgetary actions, record job creation and economic growth, together we successfully brought our economy back from the brink, from the 43 consecutive tax hikes that took $10-billion from the pockets of struggling families, small businesses and retirees," Hogan said.
However, he is asking the General Assembly to ease the tax burden on retirees. "The time has come for the General Assembly to finally pass the Retirement Tax Elimination Act to eliminate every single penny of state retirement taxes for everyone so that Marylanders who have spent their lives working and raising a family here, and contributing so much to our state can afford to retire here in Maryland near their kids and grand kids," Hogan said.
In the Democratic response, State Senator Will Smith from Montgomery County said the Governor has not changef Maryland for the better. "Tonight, you heard a reactive approach," he said. "But here's the deal. Two terms later that approach and lack of planning have not moved Maryland forward."
Smith said the Governor is not willing to work on solving the state's critical issues. "Our state has the resources, world class research hospitals, leading universities and communities waiting to be engaged. What our state lacks is an administration that is willing to convene these entities and set out a path on solving our most critical issues," he said.
Senator Smith says Democrats in the General Assembly have delivered $1-billion in economic stimulus, increased access to COVID-19 vaccines, expanded voting rights and invested record amounts of money in education.
"Now in the months ahead, Maryland Democrats will put in place a framework to ease the burdens and address the basic concerns of Marylanders and their families," he said. "However, where the instruments of government fail, or where there is no leadership from the administration, we will demand better and we will continue to work on your behalf."
By Kevin McManus