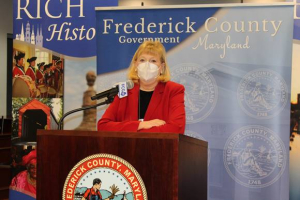 Two will go to Frederick Health Hospital.
Frederick, Md. (KM) – Frederick County is using $4.1-million of its American Rescue Plan Act funding for four local projects. County Executive Jan Gardner announced on Thursday that $2.5-million dollars out go to Frederick Health Hospital for support health responses.
Cheryl Cioffi, the hospital's Senor Vice President and Chief Operating Officer, says there's been a shortage locally and nationally of health care workers due to the COVID-19 pandemic and increased need for health care. "To combat this shortage, Frederick Health will use this funding to support and retain our exciting staff, and attract new and talented health care workers to our organization," she said.
Gardner says another ARPA grant heading to FHH is $1.1-million which will help the hospital refocus its health care programs for low income seniors. "We know that many seniors have been isolated and put off care that they really need during the pandemic because they didn't want to risk going out to a doctor's office where they might be exposed to people who are sick," she said. "Many others have wanted to stay in their home as long as possible. We know seniors want to age in place, and they have a lot of support do that."
Heather Kirby, Vice President of Integrated Care and Chief Public Health Officer at FHH, says with this funding, the hospital's program can expand from 100 seniors currently being serviced to 200 within the next two years. "It will allow us to expand our current senior service program which provides navigation and coordination of community-based resources and services to vulnerable low income seniors living in the community," she said.
Kirby also said this funding will allow FHH to provide home-based medical care for seniors who experiencing barriers which limit them from visiting a traditional medical practice setting.
Gardner also announced that the Salvation Army is receiving $78,000 for its day care center which serve persons with unstable housing. . "The center is located inside Grace United Church of Christ. It provides a place to get out of the weather. And more importantly, it gives displaced people a place to access resources, receive training that move them toward independence. And, really, the ultimate goal is move people into more stable housing," she says.
And the County's Agriculture Innovation Grant program is getting a $500,000 shot in the arm from ARPA funding. "This money is, again, a one-time boost that will be added to our Agriculture Innovation Grant Program, which has recently won some nice awards. And, certainly, one of priorities is to insure we leave a legacy of agriculture for future generations," Gardner says.
She says the grant program helps to make sure agriculture continues to be economically viable.
Frederick County has been allocated with $50,413,962 from the federal American Rescue Plan Act of 2021. The funds are designated to help turn the tide on the pandemic, address the economic fallout and pave the way for a strong and equitable recovery.
By Kevin McManus