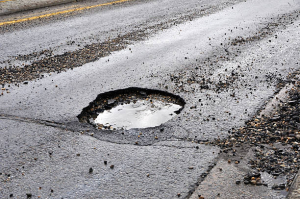 AAA has advice for avoiding them.
Washington DC (KM) – Potholes are common this time of year, especially following snow storms.
They're formed when moisture gets underneath the cracks in a road, freezing and lifting the asphalt, creating a weak spot that becomes a pothole That's according to Chris Storms, AAA Car Care District Manager. "You hit a pothole, it's real important to get out and inspect the tires to make sure there's no bubbles on the side, or the inside; make sure the rim is not dented or damaged," he says.
Storms says encountering one on the roads can be very costly. "Replacing an OE rim today is anywhere from $900 to $1500 for just one rim. And tires aren't cheap today either. Tires go from $150 up to to $400 for a tire depending on what size and make and brand they are," he says.
Other damage to a car from potholes includes dislodged wheel weights, displaced struts, dislocated shock absorbers, and damaged exhaust systems.
When out driving, Storms says motorists should always look ahead for potholes, and try to avoid them. And when driving around to avoid the pothole, they need to make sure they don't hit pedestrians and bicyclists, or collide with another vehicle.
Storms says watch out for puddles. "Sometimes when you have a puddle, you may have a potential pothole in that puddle. So it's just being really alert this time of the year when potholes are really prevalent," he says.
And if your vehicle encounters a pothole, Storms says you should take it to a mechanic to get it checked out. "If you feel any vibrations or any change in your driving, you should 100% go and have it looked by a professional," he says.
"They can look at the steering and suspension. They can check the alignment for you to make sure the car's still in alignment," Storms continues. "They'll do an overall look at the tires and rims and make sure you're safe going down the road in the future."
AAA says Americans spend $3-billion each year on average to repair pothole-related damage to their vehicles. The average each American driver pays is $300 as estimated by AAA in 2017.
By Kevin McManus