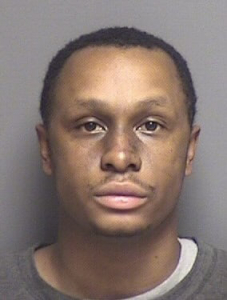 He pleaded guilty to being an accessory after the fact.
Frederick, Md. (KM) – Sentence was handed down on Tuesday to a Clarksburg man for his role in a murder in Frederick nearly two years ago. Brian Braheem Henry, 28, was given ten years in prison for his part in the killing of Jarmari "Mari" Anderson, 19, of Frederick.
State's Attorney Charlie Smith says Henry pleaded guilty last year to being an accessory after the fact in a 1st-degree murder, and agreed to testify against the other two defendants, Jordan Hooks of Frederick, and Daniel Alonzo Flythe of Silver Spring. He says Henry did testify and that helped the State's case. "Nevertheless, we wanted the 10-year sentence. We thought that was a fair sentence given the fact that, again, he was an accessory after the fact in a murder. He left Jaemari Anderson,. 19-year-old young man, lying there to die while he fled," he says.
Anderson was shot to death near a walking path on Waterview Court in the Waterside community on September 6th, 2020. Smith says Henry was not the person who pulled the trigger, but he disposed of the weapon after the murder.
"That's a straight-year sentence. There's no probation with regard to that because he just has to do his time and get out since that is the maximum sentence for that charge," Smith adds.
He says the State is satisfied with the sentence. "I think Brian Henry is serving a pretty long sentence for his involvement. But it was serious involvement," says Smith. "No, he wasn't the person who pulled the trigger. Yes, he was an accessory after the fact for a murder. He tossed the alleged murder weapon out of a window of the car."
During sentencing, Smith says Henry was remorseful. "He apologized to the family, which is something we don't see, indicating that he was sorry that it ever happened. He had some other witnesses speak on his behalf. Nevertheless, he did get the maximum and we thought that was the appropriate sentence," he says.
Hooks was convicted on November 18th of involuntary manslaughter, 2nd-degree assault and conspiracy to commit 2nd-degree assault in Anderson's death, but not 1st-degree murder. He's scheduled to be sentenced on March 4th, 2022. Flythe entered an Alford plea to 1st-degree murder in December, 2021, where he doesn't admit guilt, but acknowledges the State has enough evidence for a conviction. He was sentenced on January 10th, 2022, to 40-years incarceration.
By Kevin McManus