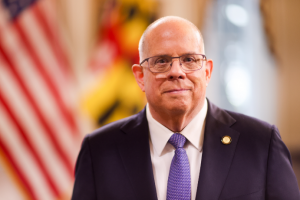 He had been mentioned as a Republican challenger to Democratic Incumbent Senator Van Hollen.
Annapolis, Md. (KM) – Governor Larry Hogan announced on  Tuesday that he will not be running for the US Senate in 2022. He had been mentioned as a possible Republican candidate against Incumbent Democrat Chris Van Hollen.
"I sincerely appreciate all of the people who've been encouraging me to consider it. A number of people have said that they thought I could make a difference in the Senate, and be a voice of common sense and moderation. I was certainly humbled by that, and it gave me and my family reason to consider it," he told reporters during a news conference in Annapolis.
"I don't aspire to be a United States Senator and that fact has not changed," Hogan continued. .
He said his number-one job right now is being Governor. "And when I pledged to the people of Maryland that I was going give this job as Governor everything I've got every single day I've been given, I meant it," he said. "And that commitment is far more important to me than any political campaign."
His second term as Governor ends in January, 2023. Maryland Governors can only serve two consecutive, four-year terms in office.
Even when he's out of office, Hogan says he won't stay quiet about the issues facing the country. "When it comes to the serious challenges facing our country and our democracy, I' m going to continue to call it like I see it. And I'll keep speaking out about the divisiveness and dysfunction in Washington, and about fixing the broken politics," he says.
By Kevin McManus