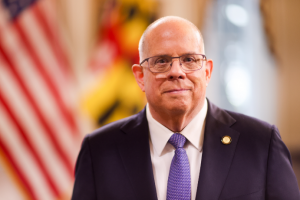 One includes awarding some cash prizes.
Annapolis, Md. (KM) – Maryland officials are trying to encourage more residents to get their booster shots against COVID-19.
At his news conference on Tuesday, Governor Larry Hogan announced that the state will be expanding it calls and text messages through the GoVAX campaign to reach out to residents who are eligible for the booster shots, and get them to roll up their sleeves. "If you get a text or a call from the GoVAX Team, they can help you get set up with a booster appointment right away," he says. "If you're a home-bound patient or if you need help getting transportation to a clinic, they can help you with that too,"
He says to date, the GoVAX Maryland team has already completed two-million calls, and sent over 1.9-million text messages which has led to tens of thousands booster shot appointments. "We're going to ramp up that outreach considerably in the coming days," the Governor says.
On Monday, the Governor's Office says more than 95% of Maryland's adult population has been vaccinated against COVID-19. To date, more than 11-million COVID vaccines have been administered, including 2.1-million boosters.
Governor Hogan also said hospitalizations have dropped from a peak of 3,500 last month to 1,111 for a decline of 67%. From a peak of 30% in January, the COVID-19 positivity rate has declined by 60% to 5.81%.
He also said boosters shots will be offered at many hospital-based testing facilities and 539 pharmacies and clinics across the state.
Part of Tuesday's announcement included a way for booster shot recipients to win cash prizes. On February 15th, Governor Hogan said a $2-million-dollar GoVAX 2.0 Promotion will get underway. The campaign will take place over the next several weeks, ending with a grand prize drawing on May 3rd. .
Those who have already received their booster shots are eligible to that day to win $500,000 in cash. "Weeks two through 11, a winner will be selected for $50,000 prizes each week. And then in week 12, our grand prize winner will receive $1-million,": the Governor says.
"Those who have already been boosted in Maryland at any time are eligible for those prizes and will automatically be entered to win," Hogan continues.
The Maryland Department of Health will notify the winners. All of the money comes from the Maryland Lottery.
To find a vaccine clinic, visit covidvax.maryland.gov or call the multilingual call center at 1-855-MD-GOVAX (1-855-634-6829). The call center is open seven days a week.
By Kevin McManus