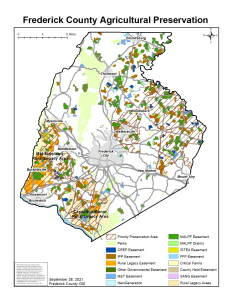 April 1st is the deadline.
Frederick, Md. (KM) – Applications are now being accepted for the Maryland Agricultural Land Preservation Foundation Easement program.    Under the MALPF program, the state purchases easements or the development rights on farms to forever keep those properties in agriculture.
In Frederick County, since the MALPF program began in 1977, more than 23, 500 acres have been preserved.
The deadline to apply is April 1st..
"One of my priorities is to ensure that we leave a legacy of agriculture for future generations," says County Executive Jan Gardner, in a statement. "That means we have to preserve our best and most productive farmland. I'm proud to have accelerated our agriculture preservation program, adding 3,500 acres over the past 15 months, with more in the pipeline."
MALPF has been rated is one of the most successful programs of its kind in the. country.
It's one of several agricultural preservation programs managed by the Frederick Division of Planning and Permitting. The county says these programs have preserved more than 70,000 acres of agricultural farmland; of that, 67,118 are permanently preserved. .
For more information, call Shannon O'Neil at 301-600-1411, or e-mail to soneil@frederickcountymd.gov.
By Kevin McManus