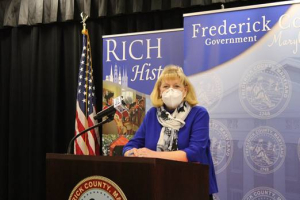 It's expected to expedite the permitting process for small businesses.
Frederick, Md. (KM) – The EPIC program starts up next week in Frederick County. EPIC stands for Expedited Permit and Inspection Certificate, and is designed to quickly review and approve permit applications for small businesses.
County Executive Jan Gardner announced the service on Thursday during her public information briefing. "The goal is to get building permits into the hands of businesses within one week of submitting their applications," she says. "EPIC also offers a predictable and timely inspection process."
Gardner says the county has heard from small businesses who would like this process to move quicker so they can get into their space, start hiring workers and begin their operations. "We're really excited to be able to offer this expedited process to our county's small businesses," she says. "The County's Division of Planning and Permitting recognizes the value of its fast track for large businesses, and wants to offer an equally valuable option to support our smaller businesses."
The EPIC serviced begins on Thursday, February 17th.
Gardner says any type of small business is eligible for this program. "A retail shop, a beauty salon, dance studio, medical clinic, may want an open space and a space that was already used by a similar business, and they want to rearrange the space to better fit their needs. But they don't want to tear down the structural components of the building. And that location for the EPIC program can come from the property owner, from a license contractor, a design professional or the owner's agent," she says.
There's a five-step process for the EPIC program: submission, application, review, permit and inspection. Next day inspections are available, county officials says.
The business owner need to have 5,000 square feet or less of space to apply. The construction must be limited to interior of the space. Gardner says the work will be mostly renovation of existing space.
By Kevin McManus
For more information, contact Ashley Bonomo, Manager of Permitting Services at 301-600-3463, or to send an e-mail to [email protected].