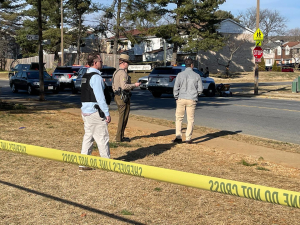 All three have been taken to Shock Trauma in Baltimore
UPDATE-The two Frederick City Police Officers shot were released from Shock Trauma Friday evening.
Frederick, Md. (KM) – Two Frederick Police Officers and another individual were shot Friday afternoon.
Police Chief Jason Lando says the two officers, a man and woman, responded to the intersection of Waverly Drive and Key Parkway for a suspicious individual with a firearm. He says just before 1:00 PM, Frederick Police received word of a shooting in that area.
Two Maryland State Police helicopters were brought to the scene to medivac all of the injured.
At a news conference late Friday afternoon outside of Shock Trauma, Chief Lando identified the two offices and the suspect. The officer are Brian Snyder, 43, whose in his second year with the Frederick Police; and Kristen Kowalsky, 32, whos been with Frederick Police for nine years. He said they're both in stable condition, and are expected to be okay.
The suspect is identified as Dominique Lamarr Lewis, 25. His condition was not available.
The investigation is being handled by Office of the Attorney General's Independent Investigations Division and the Maryland State Police. .
Chief Lando says this is an "active investigation."
Authorities say there is no danger to the citizens who live in the area.
By Kevin McManus