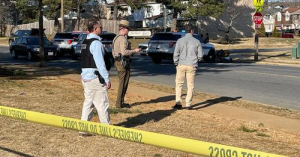 Suspect is charged with attempted 1st & 2nd-degree murder.
Frederick, Md. (KM) – Maryland State Police say charges have filed in connection the shootings on Friday in Frederick which injured two police officers. . Dominique Lamarr Lewis, 25, of Hampton, Virginia is charged with two counts of attempted 1st- and 2md-degree murder, first-degree assault and use of a firearm in the commission of a felony.
At around 12:45 PM on Friday, Frederick Police Officers Bryan Snyder and Kristen Kowalsky were sent to the area of Waverly Drive and Key Parkway near the former Frederick Town Mall for a suspicious person with a gun. They found Lewis sitting on an electric utility box with a firearm. State Police say a preliminary investigation determined Officers Snyder and Kowalsky asked Lewis to show his hands, but he ignored them.
Authorities say Lewis then turned around and fired multiple shots at officers. They returned fire. The two officers were injured, as was Lewis.
All three were medivaced to Shock Trauma. Officers Snyder and Kowalsky have been released and are recovering at home. Lewis is still in the hospital under guard as he continues to receive medical care.
Maryland State Police say no motive has been determined in this case, and the investigation continues. .
By Kevin McManus