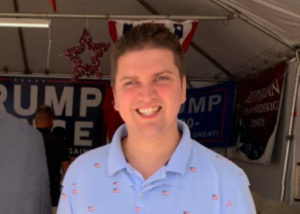 Chaz Packan is running for District 4.
Frederick, Md. (NS) – A Linganore High and Frederick Community College alumnus is running for Frederick County Council District 4.
Chaz Packan, a Republican who was born with Cerebral Palsy, said the county needs to look at what is being taught in schools.
"It's important that we stand up for teaching all of American history. And I think that something like CRT (Critical Race Theory) is antithetical to what we stand for as Americans," said Packan.
He said he will work to advance educational freedom for families.
Packan would like to see spending brought under control.
"We can work to get a balanced budget and get the government turned back to what the people want and off their back," Packan said.
He added that he stands for people who want to live without being interfered by local government.
If he was in office during the pandemic, Packan said he would have dealt with COVID differently.
"I feel it has been up to the American people from day 1. They should be the one to make the choice with regards to wearing the mask or getting the shot if they want to," Packan explained.
He added that parents should choose whether or not their children should wear masks in school.
June 28 is Primary Day and the General Election will be on November 8.