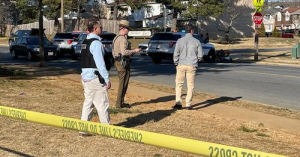 The two police officers are at home and recovering
Fredeick, Md. (KM) – The suspect who allegedly shot two Frederick Police Officers last Friday remains in serious condition at Shock Trauma.  Dominique Lamarr Lewis, 25, was scheduled for a bond review hearing on Monday in Frederick County District Court, but that was postponed. :
Lewis is charged with two counts each of attempted 1st-degree murder – and attempted 2nd-degree murder, two counts of 1st-degree assault, and one count of use of a firearm in the commission of a felony for shooting Officers Brian Snyder and Kristen Kowalsky, according to Maryland State Police who are investigation this incident.
The two cops were responding to the area of Key Parkway and Waverly Drive on Friday afternoon to investigate a suspicious man with gun. Officers Snyder and Kowalsky found Lewis sitting on a utility box. They asked him to show his hands, but he ignored them. As he got up and walked away, Lewis turned and shot both Officers Snyder and Kowalsky; they returned fire. .
All three were flown to Shock Trauma. Officers Snyder and Kowalsky were released from the hospital on Friday evening, and are recovering at home. Frederick Police say both have been placed on administrative leave with pay while the investigation into this incident continues.
By Kevin McManus