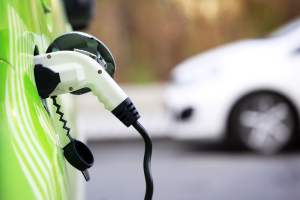 If it passes, it would be a requirement for most new homes.
Frederick, Md. (KM) – Testimony was taken Tuesday night by the Frederick County Council on a bill to require infrastructure for charging stations for electric vehicles be part of some new home construction
The legislation, sponsored by Council President MC Keegan-Ayer, would require the infrastructure, such as wiring and an outlet, be installed as part of new single family houses, duplexes and town houses. The measure would not apply to mobile homes, or buildings without electric utilities available. But it would require the installation in a garage, carport, parking lot or driveway. It would not require the installation of the charging equipment itself.
Walter Bader of Monrovia, said any decision like this should be left to the consumer, and not be a government mandate. "Currently, everyone who wants to can afford a car charger in their house can get one. All home buyers do not need the County Council to make them buy an accessory," he said.
The Executive Officer of the Frederick County Building Industry Association, Danielle Adams, says this requirement, could drive up the cost of a house. "We're asking the Council to consider shifting away from a required approach to an opt-out approach. where the electrical vehicle charging is the base price of a house. However, the customer can remove it from their selection if the cost is not bearable," she said.
Adams also said only 25% or less of new home customers ask for this feature.
Matt Suber from Urbana testified in support of the legislation. He says the number of electric vehicles on the roads is expected to increase in the near future. "It's safe to say that ten to 15 years from now there will be more EV's on dealers' lots than gas vehicles which makes the timing perfect for Frederick County to pass this legislation now as we have thousand of homes in our development pipeline to built in the next ten to 15 years," says Suber.
Linda Norris Walt, the Executive Director of Envision Frederick, had similar comments. "It was just announced that US infrastructure funding to the tune of $5-billion will be supporting installation of EV charging capacity on interstate highways, and jurisdictions in Maryland and all over the country are preparing the conversion of US consumers from gasoline to electric-powered cars," she said. "Frederick County should be prepared for this by making this a standardized item in our new homes."
The Council took no action on this bill, but is expected to vote on it at a later date. If it passes, it will become part of the County's building code.
By Kevin McManus