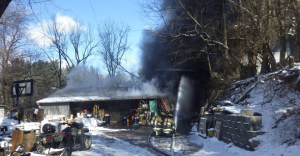 The cause of the fire is under investigation.
Westminster, Md. (NS) – A garage fire in Westminster has resulted in $500,000 in damage.
The Pleasant Valley Community Fire Company was dispatched to the 3200 Block of Halter Road at around 9:40 a.m. on Monday for the fire.
When they arrived, they saw a garage of a one story building ablaze.
It took 60 firefighters 90 minutes to extinguish.
The cause of the fire remains under investigation.