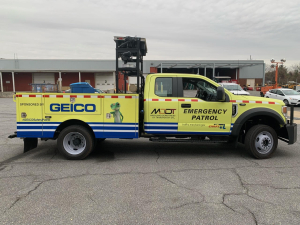 GEICO is its new sponsor.
Hanover, Md. (KM) – The Maryland Department of Transportation State Highway Administration says it's CHART Emergency Patrol program is observing 35 years in operation, and it has a new sponsor. Jason Dicembre, the Director of the Office of Transportation, Mobility and Operations, says GEICO, the second largest auto insurer  in the US, will be working with CHART to help keep the roadways safe.
"Our program started back in the 80's as a very, very small seasonal program to get people across the Bay Bridge to Ocean City during key beach travel season. And over the years, it's grown. And what the sponsorship does is enhance those patrols in our various regions that we cover, now statewide," says Dicembre
That includes highways in Frederick County such as I-70, I-270 and US 15. "We do have full time patrols 5:00 AM till 9:00 PM Monday through Friday, and the weekends 9:00 AM until 9:00 PM covering these very routes you've mentioned, I-70 270, US 15, and extending even further out west to Washington County along 70 there and I-81," says Dicembre.
He says CHART, which stands for Coordinated Highways Action Response Team, responds to highway incidents such as vehicle crashes, disabled motorists and debris in the roadway. The CHART crew also provides services for vehicles with flat tires, or empty gas tanks. This sponsorship from GEICO will help enhance these services., Dicembre says.
MDOT SHA says CHART Emergency Patrols respond to and average of 60,000 traffic incidents each year. Responders assist a motorist every 14-minutes, and manages traffic at a crash or incidents once every 23-minutes. This prevents an estimated 225 to 250 secondary crashes each year, and saves drivers approximately $1-billion annually in fuel and delay costs.
Dicembre says part of the sponsorship includes planning for the future when more electric vehicles are expected to be on the roads. "The same way that we would provide out of gas to someone that's out of fuel, we have to start looking to what training do our responders need to remove a vehicle with that type of technology from the roadway," he says. "Is it different? Is it the same? Do we need to have some type of battery jumpers? All types of things are things that we're looking at."
By Kevin McManus