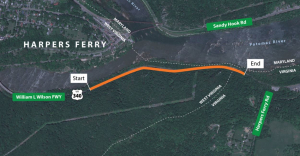 It will be closed between the bridges for 3 months in late 2022.
Frederick, Md. (NS) – Route 340 in between the Potomac and Shenandoah Rivers will be shut down for three months so transportation officials can shore up the side of the mountain to prevent rockfalls.
Motorists from West Virginia and Maryland who normally use that road will face a lengthy detour during the closure.
Jaclyn Bocchetti, lives in Shephardstown and works at Frederick Health Hospital. She expects to spend more time driving every day.
"It's going to have a major impact on myself and everyone that's commuting from this area. It's gunna add probably about 30 minutes to my commute just into Frederick," said Bocchetti.
She is not concerned only about her commute, but local Harpers Ferry businesses that will be impacted.
"Right in the historical area there (Harpers Ferry), there are several little cafés and shops and then there's the town of Bolivar that's just right up the hill there. It's quite a few and, I mean, they're all locally small businesses there's nothing, you know, commercial there. So it's a concern after coming off of COVID and struggling then and now they're going to shut them down again pretty much.
The West Virginia Department of Transportation said some work will be done 600 feet above the roadway, making it unsafe to have any travel lanes open.
Last February a Maryland woman was injured after she drove into a boulder that had fallen onto 340 from Loudoun Heights. Her injuries were not life threatening.