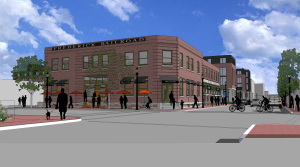 The money will be used for land acquisition for the facility.
Frederick, Md. (KM) – The Frederick Board of Aldermen on Thursday night unanimously approved a memorandum of understanding with the County on the purchase of property for the proposed downtown hotel and conference Center.
Richard Griffin, Director of Economic Development, says the county will be providing $2.52-million to help the city purchase the land for the project. The City of Frederick is contributing $1.18-million for a total cost of $3.70-million to buy the land. "Approval of the MOU this evening does not approve the expenditure of those funds as such actions would come later at a separate agreement in front of this board," he says.
The county's share will be put in an escrow account, says Griffin He says the MOU has some safeguards for the county should the development not come about. If the city does not purchase the land on the fourth anniversary of the date of execution, the county will get its money back with interest. If the building permits are not issued on the sixth anniversary of the date of execution, the county will receive it funds back with interest. And if the city sells the property, the county will get a pro-rata share of the proceeds in proportion the city and the county's contributions.
Alderman Kelly Russell said she supports the project. "I just want to express appreciation for the partnership with the county and their participation, and look forward to the project moving forward," she said.
Her colleague, Alderwoman Katie Nash, said she support the project, but hopes minority-owned contractors get a chance to bid on it. "When we have project like this come before us, that there is every intent that we seek minority participation in contracting. Just a heads-up of where I'm going to go when we have that conversation," she said.
Griffin said any stipulation that minority contractors take part in building the project will come when the city signs an agreement allowing the developer to build on the property.
The project, proposed for an area along East Patrick Street near Carroll Creek, is expected to have 200 rooms, and 22,000 square feet of conference space. There will also be an on-site public parking garage and a retail and restaurant space, including a rooftop lounge.
Part of the project will include the former Frederick News-Post building.
City and county officials have discussed the need for this project, saying it will attract conferences and meetings, and give the city of Frederick an opportunity to show off its downtown.
Plamondon Hospitality Partners is the developer for this project. City officials say the company will take all the risks when it comes to building and operating this facility.
By Kevin McManus