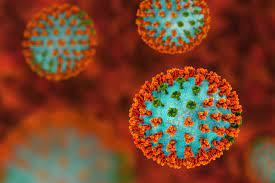 The Dept. of Health reminds residents to get vaccinated and take precautions against the flu.
Annapolis, Md. (KM) – Even though COVID-19 is getting a lot of attention, influenza is still out there, according to Dr. Clifford Mitchell, Director of Environmental Health for the Maryland Department of Health. He says the state has experience some flu activity this year. "It is significantly higher than last year when we had very, very little flu in part because of all of the work people were doing to prevent transmission of COVID," he says.
But it is not as active the two flu seasons prior to the COVID-19 pandemic which began in March, 2020 that Dr. Mitchell were "very active."
He says this year's influenza virus affects the most vulnerable of our population. "It is usually–and this year is no different–the very old, the very young and people with other illnesses who are at greatest risk," Dr. Mitchell says.
The flu season usually begins in October, with peak activity between December and February, and it has been known to last into May, according to the US Centers of Disease Control and Prevention. Dr. Mitchell says it's not too late to get a flu shot. "You're protecting not only yourself, but you're also protecting your family and your community because every case that is blocked by somebody who has vaccine means that's somebody whose not going to the hospital; it's somebody whose not infecting other people; it's somebody who keep on working, being a parent, taking care of kids," he says.
You can also get your COVID shot at the same time as you receive you flu vaccine.
To prevent the flu, Dr. Mitchell says you should wash your hands frequently, cover your coughs and sneezes, social distance and stay home from work or school if you feel sick. But he says oftentimes flu symptoms are very similar to COVID-19. "Fever, achy joints, cough. It does not usually involve any sense of loss of taste or smell," he says. "But it can be very difficult to tell whether what you've got is a cough and a fever and body aches due to COVID, or due to the flu."
Dr. Mitchell says it's important for anyone with these symptoms to see a physician and get tested. . "Just as there are very effective treatments for COVID that have been developed, there are also treatments for the flu to prevent it from becoming more serious," he says.
By Kevin McManus