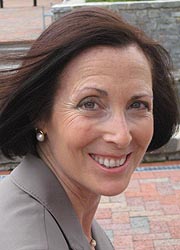 It would set up a treatment program for those with mental health disorders as a pilot in Frederick County
Annapolis, Md. (KM) – A bill to set up an assisted outpatient treatment pilot program in Frederick County for those with mental health disorders is scheduled for a vote on Friday by the local delegation. The measure is sponsored by Delegate Karen Lewis Young in the House of Delegates. "It is a very innovative treatment program for those with severe mental illness," she says.  "It's been approved in 45 other states, but it's not been approved in Maryland."
A patient would be treated in this center if so ordered by a a judge.
Lewis Young says if it passes, the outpatient treatment center would be set up in Frederick County as a pilot program to determine how it would work in the rest of the state. "And the way is being put in is to test it in Frederick County," she says.
Frederick County State Senator Michael Hough is sponsoring the bill in the Senate. "What this seeks to do is at least to establish an assisted outpatient treatment," he says. "When you can't 'them into mental hospitals—there's a whole lot of problem here, we don't have enough mental hospitals, the commitment issues, and other things—at least a judge can come in and order. And there can be a system set up where there has to be a treatment regime that's in place."
"There's always been a careful balance civil liberties, and making sure that people who are seriously ill receive the help that they need," Hough continues. "And, unfortunately, our state has tilted too far, in my opinion, in the direction of civil liberty on this case so that people who are seriously mentally ill–and part of their illness is like a schizophrenia–they will refuse treatment."
Delegate Lewis Young adds' "Currently, people who have severe mental illness don't recognize that they're mentally ill. They're in denial," she says. "So not only is the family frustrated they can't do anything for them, but the hospital that are seeing them circle through the emergency room every week."
This is a statewide will, but Lewis Young says it's chances of moving forward will improve if it has the endorsement of the Frederick County Legislative Delegation. She says it has the support of the County Executive and the Frederick County Health Department.
A hearing on this bill is scheduled for Wednesday, March 9th, 2022.
By Kevin McManus