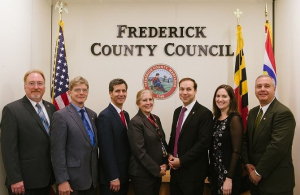 The Council reviewed the legislation on Tuesday.
Frederick, Md. (KM) – The Frederick County Council on Tuesday looked over a bill to establish a police accountability board.
The legislation, which would have authority over the Frederick County Sheriff's Office, and police departments in Frederick, Brunswick and Thurmont, would add expand the number of members from five to nine. Two members would come from Frederick, and one each from Brunswick and Thurmont.
It would also expand experience preferences, and add training requirements in the County's Ethics law and the Open Meetings Act. That's in addition to training in police procedures outlined in the Maryland Police Training and Standards Commission.
During Tuesday's meeting, the Council agreed by consensus to return the age requirement to the proposed ordinance. Anyone who wants to serve on the police accountability board must be 18 years of age or older, and be a resident of Frederick County and a registered voter.
The bill also mentions the administrative charging committee which reviews a law enforcement agency's investigation of an officer's misconduct. "The one thing I see missing though this is any sense of qualification for those members at all," said Councilman Steve McKay, noting that the committee must review evidence such as body camera footage and issue a written opinion of its findings.
"Nothing in the state law would prohibit you from creating criteria for those individuals," responded County Attorney Bryon Black. "Two are appointed by the accountability board, and two by the executive and the chair of the accountability board serves. So that person has already been vetted and meets criteria."
Councilman Phil Dacey said that many of these qualifications for the police accountably board might discourage individuals from wanting serve. "People would eventually have to open up their social media, and they can't post this,": he said. "Of course, they're going to have to be conscious about what they post. I wonder if we're going to be able to find enough people that are interested," he said.
His colleague, Councilman Jerry Donald, responded. "These people are making huge decisions that can completely change somebody's life," he said. "I think the requirements being higher are necessary. I can see what Phil's saying in the sense that we do have trouble filling boards and commissions. But this is a special exception."
And Council Vice President Michael Blue reminded his fellow Council members the power of this police accountability board. "Nothing like this has ever been set up before. This is one of the most important boards that you as a County Executive and we as a County Council are going approve. It has the potential to completely change lives.," he says.
County Executive Jan Gardner, who was part of Tuesday's meeting, said her staff will revise the bill to add the age requirements and that the persons serving on the board be a county residents and registered voters. She also said at the qualifications for the administrative charging committee will be reviewed, along with adding anything from the ethics law. for those who serve on the police accountability "A bill will get sent back to you,"; Gardner said.
Under state law, all counties in Maryland must have a police accountability board in place by July 1st.
By Kevin McManus