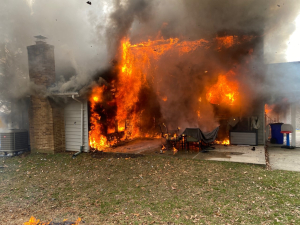 Two adults, one child are displaced.
Frederick, Md. (KM) – Fire fighters battled a house fire north of Frederick Tuesday morning. County Fire and Rescue says personnel were called out just before 9:30 for a house on fire in the 5600 block of Mountain Laurel Drive.
When they arrived, they saw fire coming from the sides of a two-story single family home. Officials requested the Rapid Intervention Dispatch. Crews worked to establish a water supply and a primary search was conducted. A tanker task force was also requested. It took 45 fire fighters one hour to put out the flames, and another hour to do an overhaul and put out the hot spots.
Two adults and one child were not home at the time of the blaze. They have been displaced. There were no fire fighter or civilian injuries, but two cats perished in the fire.
The County Fire Marshal's Office is investigating.
The fire companies which responded are:
Junior
Jefferson
Lewistown
Emmitsburg
Citizens Truck Company
Braddock Heights
Middletown
Independent Hose Co.
United
Libertytown
Westview
Urbana
Walkersville
Spring Ridge
Fort Detrick
By Kevin McManus