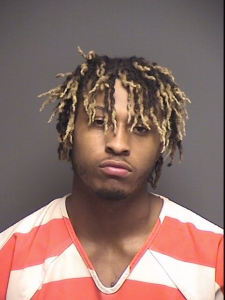 He was convicted in December of murdering his girlfriend.
Frederick, Md. (KM) – In Frederick County Circuit Court on Wednesday, Richard Eugene Cartnail, 18, was sentenced to life in prison plus 20 years for 1st-degree murder. He was convicted in December for the shooting death of Tykerria Dawson, 17, of Hagerstown. Her body was found in June, 2020, near a creek bed in the Ballenger Creek area.
Circuit Court Judge Scott Rolle also sentenced Cartnail to life for conspiracy to commit 1st-degree murder, 20 years for the use of a firearm in the commission of a felony, and five years for being a minor in possession of a regulated firearm. All sentences are to be served concurrently.
The judge ordered Cartnail to be transferred to the Division of Corrections immediately.
Cartnail was convicted of those offenses following a trial in December, 2021.
"The defendant acted senselessly and has an utter lack of remorse. He deserves this sentence," said State's Attorney Charlie Smith, in a statement. "This was a cold, calculated murder, and the manipulation of individuals around him was also egregious. This sentence sends a message that those who commit horrific acts of violence will be removed from the public for a long time."
On June 27th, 2020, the Frederick County Sheriff's Office was dispatched to a wooded area at the end of Briargrove Court in Frederick for a report of a deceased person. A local resident found the body while out for a walk.
During their investigation, investigators say they found several 45-caliber shell casing on the scene. The clothing was tested for DNA.
The Sheriff's Office says it learned that Cartnail and the victim had a relationship, but there was falling out. He planned to kill Dawson. The victim traveled to Cartnail's home. The two walked into a nearby wooded areas where a teenage girl was wafting with a bag containing a handgun. Authorities say Cartnail took the gun out of the bag, and shot Dawson three times in the head.
By Kevin McManus