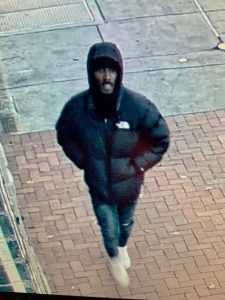 Victim shot in leg.
Hagerstown, Md. (NS) – A Hagerstown gun shot victim is not cooperating with police.
At around 5:45 p.m. on Monday, Hagerstown Police responded to the area of 7 East Washington Street for a report of a single shot fired.
Upon arrival, officers found 30-year-old Donta Louis of Hagerstown with a minor gunshot wound to the leg.
Louis was taken to Meritus Medical Center where he was treated and released.
During the investigation, Louis was uncooperative with officers.
An individual is seen on surveillance camera footage shooting Louis.
It is believed this is an isolated incident and he was targeted.
This is an ongoing investigation, anyone with information which can assist investigators is asked to contact the Hagerstown Police Department.