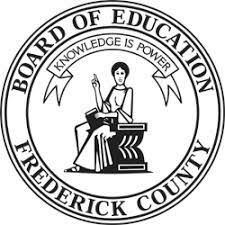 Any wearing of masks to guard against COVID-19 will be voluntary.
Frederick, Md. (KM) – The mask mandate in Frederick County Public Schools will be lifted this week. On Wednesday evening, the Board of Education voted to make the wearing of masks to guard against COVID-19 voluntary on the part of students, teachers, staff and visitors to school buildings. The vote was 6-1 with Board member David Bass opposed. Student member Sam Starrs abstained.
The passing motion was made by Board member Sue Johnson, who noted that she previously favored the mask requirement to fight COVID-19. "Last fall, when the previous superintendent gave the data and said Delta did not look good, I wanted to keep the kids in schools, So I caved on the mask because I wanted kids in school and we were able to do that," she said. "Through this outstanding effort by our educators, the staff and everybody whose working for this system, we've actually had less stress than other systems."
Her colleague, Jay Mason, voted in favor, but said he would like to revisit this issue if COVID-19 metrics jump. . "I'll bring a motion back if numbers go up, cases spike. I think I reserve that right. And I think that our staff and students would like to have somebody on their side," he said.
This action follows a decision on Tuesday by the Maryland State Board of Education to allow local school districts to decide on whether students should wear masks to slow the spread of COVID-19. Previously, the State School Board limited when local school systems could end the policy. This vote ends the emergency order on March 1st. It must still be approved by a legislative committee.
Currenlty, local boards of education can end the mask requirement Prior to Wednesday's vote, the Frederick County School Board heard from about 30 speakers who testified for and against the mask mandate. One was Dawn Lynch, an educator with FCPS, who supported keeping the mandate in place She noted that the Maryland School had listed a number of "off ramps": where local boards of education could end the mask mandate, one was at least 80% of the residents must be vaccinated. Presently, , that number in Frederick County is 80.4% But Lynch says the county's is not quite at 80% or more. "Frederik County is the largest geographic county in the state, and has many zip codes. However, there are several zip codes or regions that don't meet or come close to the 80% threshold," she said. "I am concerned that by removing the mask mandate, the transmission rate will increase and/or spike again."
April Montgomery spoke in favor of eliminating the mask requirement. "So please vote to rescind this and honestly, don't bring it back because I agree with other people that this is not a decision that you guys can make for our children. It is a medical decision,'; she said as the audience applause.
Masking will still be required on school buses as this is a federal transportation requirement.
By Kevin McManus