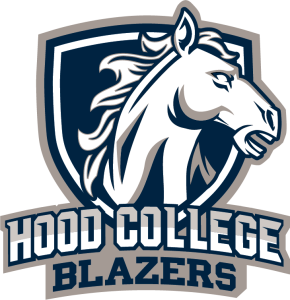 The Blazers defeated Eastern University on Sunday.
Frederick, Md. (KM) – Hood College in Frederick is going to the NCAA Tournament . The Blazers punched their ticket to the big dance by defeating Eastern University in St. Davids, Pennsylvania Sunday by a score of 75-71 in the Middle Atlantic Conference Commonwealth Championship.
"It's a fun ride. it's been a lot of work, a lot of hours, a lot of good people helping out with it. But to have that really come to fruition completely last night was just an awesome feeling and just very, very gratifying,": says Hood's Head Basketball Coach Chad Dickman. He was a guest Monday on WFMD's "Morning News Express."
Hood will play Oswego State at Swarthmore College in Pennsylvania on Friday in the NCAA Division 3 Tournament. Oswego has a 25-2 record; Hood's is 20-6. Tip off time is 3:05 PM,
Coach Dickman realizes Sunday's win was a come-from-behind victory. At one point, the Blazers were trailing Eastern by ten points, 53-43.
He gives a lot of credit to Mason Wang, who scored 26 points in Sunday's game. "Mason is the all -time winning scorer in Hood College history, " Coach Dickman says. "Mason scored his 1000th point probably about halfway through this season. Those two guys have been just rocks for our program. They've been here all four years."
The Coach was referring to Evan Wang, Mason's twin brother.
But he also gives credit to the fans who came up to St. Davids in Pennsylvania to cheer on the Hood Blazers on Sunday. "The support that we had that drove up from Frederick and came from around that area to cheer us on really helped out," Coach Dickman said. "It was a wild environment, but our guys just kept on fighting and won a close one."
By Kevin McManus