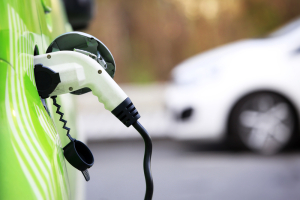 An amendment to the original legislation was approved Tuesday night.
Frederick, Md. (KM) – A second public hearing on a bill requiring residential builders to install the wiring and other equipment in some new homes to charge up electric vehicles is expected to take place next week.
On Tuesday night, the Frederick County Council approved an amendment to the legislation which would require builders to install conduits to run the wires to a junction box in a garage or a parking pad . But not the actual wiring itself. Home buyers would decide whether they want a charging station to power up an electric vehicle.
The original bill and the amendment are sponsored by Council President MC Keegan-Ayer. "At some point in time, should the buyer decide that they want the wiring, or should a future buyer decide that they want to wiring, they can just pull the wiring through this tubing and they don't have to knock out the walls in the house or cut holes in the walls in the house to put the wiring in," she said.
The vote for the amendment was 6-1 with Councilman Steve McKay voting :"no." He said he supported another amendment offered by Councilman Phil Dacey, which was defeated, to allow a home buyer to opt out of having this wiring installed in their homes. "You've informed the buyer, you given them information, and then you let them make the choice, including information about rebates if they chose that which is fine,:" he said. "And that's law right now in Frederick County. You don't have to implement that locally. I've verified that with our legal staff."
McKay was referring to House Bill 784 which was approved last year by the Maryland General Assembly and went into affect in October, 2021.
The original bill came under fire by critics who said it would force home buyers to purchase something they don't want, and it would add to the cost of a new house. Councilman Kai Hagen responded to that. "Not every house that getting built –dozens, or sometimes even hundreds at a time—have a specific buyer to opt out. And part of the efficiency of doing this is designing it right into the way the house is designed and constructed from the very beginning which makes it the lowest cost possible," he said.
Keegan-Ayer said the cost of installing the conduits would be about $250, while tearing out the walls to put in the wiring would cost $800 to $1,000.
Councilman Dacey, who proposed an amendment to let buyers opt out of the requirement of having the EV car charging infrastructure build right into the home, said he supported the amendment. He said it made the original legislation "a better bill."
Because there was a substantial change in the original legislation, the Council must hold a second hearing on the bill.
Critical Digital Infrastructure.
The Council also heard testimony on a bill which would list critical data infrastructure, such as data centers, a permitted use under Frederick County zoning laws. Under this legislation, these data centers, which tend to be campus size facilities with large buildings, would be allowed in areas zoned limited industrial or general industrial. The measure would set design criteria, lot sizes, set backs, the height of the structures and landscaping.
Matt Subert from Urbana, criticized the proposed ordinance. "We are supposed to be looking at land use decisions through they lens of climate change, but the staff report tells me climate change is still an afterthought," he said. "All that's in this bill is unimaginative window dressing of environmental site design requirements to make the view of the building less of an eyesore."
Karen Cammon from Frederick said more needs to be done to prevent stormwater runoff. "Data centers are massive facilities that create large area of impervious surfaces both as results in the buildings themselves as well the surrounding parking areas and roadways," she said. "Management of stormwater will be crucial to protection of waterways and Frederick's treasured landscapes."
On that same topic, Kevin Sellner of Frederick said stormwater management will be critical, especially if several data centers are located one general area. "If there are multiple centers put in place, there will be cumulative impact that will vastly overwhelm any decisions that are made on stormwater management for an individual center," he said.
Frederick County has two data centers: Fannie Mae, and one operated by the Social Security Administration. it lost out on obtaining an Amazon data center, but Quantum Loophole is planning to build a data center at the former Eastalco property in Buckeystown.
By Kevin McManus