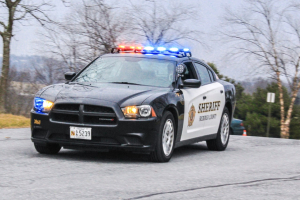 The building was evacuated.
Urbana, Md. (KM) – A 14-year-old boy whose a student at Urbana High is expected to face criminal charges after bringing a potentially hazardous material to school on Thursday.
At around 8:30 AM, The Frederick County Sheriff's Office responded to the school after the school resource officer told administrators about a social medial threat about a student who brought hazardous material to the school. Deputies and school administrators cleared the building, taking students to Urbana Middle School, or placing them on school buses.
A HAZMAT crew from Frederick County Fire and Rescue Services was dispatched, and did a sweep of the building. They determined the material was bleach. Students and staff were allowed back into the building.
The 14-year-old was taken to the Sheriff's Office for questioning. He told investigators he did this stunt after seeing a Tik Tok video on how to make mustard gas. He shared the video on Snap Chat, and said he was going to this at school on Thursday.
The Sheriff's Office says after consultation with the State's Attorney's Office, the youth is being charged as a juvenile.
Anyone who has information on this incident is asked to contact the Sheriff's Office at 301-600-1046, and reference case #22-023189.
By Kevin McManus