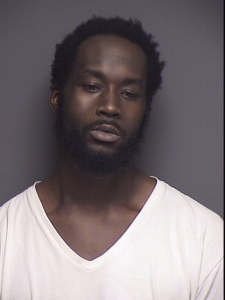 Jordan Hooks received eight-and-a-half years for manslaughter.
Frederick, Md. (KM) – The final defendant in a murder which occurred in 2020 was sentenced on Friday. Jordan Burris Hooks, 29, of Frederick was given 30 years incarceration with all but eight-and-a-half years suspected. He will serve that time in the Maryland Division of Corrections. Hooks will also receive credit for the time he's spent in jail following his arrest in this case. As part of his sentence, Circuit Court Judge Julia A. Martz-Fisher ordered Hooks to complete three years of supervised probation and 100-hours of community service following his release from prison.
In November 2021, Hooks was convicted in a jury trial of manslaughter, 2nd-degree assault, conspiracy to commit 2nd-degree assault and being accessory after the fact in a 1st-degree murder.
On September 6th, 2020, the Frederick County Sheriff's Office responded to a walking rail behind the Waterside community in Frederick for reports of a man suffering from a gunshot wound to the head. A passerby discovered the victim and called 911. Jaemair Anderson, 19, was medivaced to University of Maryland Shock Trauma by State Police helicopter. A short time later, Anderson was pronounced dead.
Investigators determined that Anderson was killed by a single gunshot wound to the head.
Detectives with the Sheriff's Office says Hooks and co-defendants Brian Braheem Henry and Daniel Alonzo Flythe were at Anderson's residence in Waterside on the night of September 6th. . There was a verbal dispute between Anderson and Hooks. The two left the home with Hooks and Flythe accompanying them. According to testimony in court, Anderson believed he was getting into a fight, and turned to hand Flythe his glasses. But instead, Anderson was shot once in the head by Flythe.
Flythe reached a plea agreement on January 10th, 2022, and was sentenced to life with all but 40-years suspended. for 1st-degree murder. Brian Henry pleaded guilty to being an accessory after the fact. He was sentenced on February 10th, 2022 to 10 years in the Division of Corrections.
"We are immensely grateful to our prosecution team and the FCSO investigators who poured countless hours into seeking justice for Jaemari and his family. While this third and final sentencing cannot bring back this beloved young man in the Waterside community, we hope that his family can finally feel some closure,": says Will Cockey, spokesman for the Frederick County State's Attorney's Office, in a statement.
By Kevin McManus