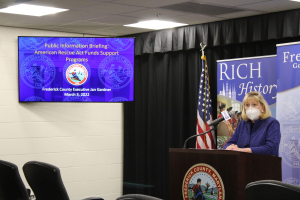 Money comes from the American Rescue Plan Act.
Frederick, Md. (NS) – Through initiatives created by Frederick County Executive Jan Gardner, new programs to enhance health care, education, and housing will be implemented in the county.
During a public information briefing on Thursday, Gardner said one program will help students who live in public housing.
"The Housing Authority has developed a new initiative called 'Academic Accelerators' for young students who live in neighborhoods that the authority manages. Educators will work with children where they are, providing after school, Saturday, and summer academic work and enrichment that focus on math and reading skills and help to build confidence and study skill in children," she said.
The program will utilize community partners to help students retain and build upon what they learn in school.
She said $100,000 a year in American Rescue Plan Act (ARPA) funds will be invested for 4 years into this program.
Money will also be allocated to help with increasing diabetes care.
Gardner said the county has disparities in health between people of color and white residents.
"The Frederick County Health Care Coalition, which includes the county's health department and a lot of other community health providers, is charged with developing a local health improvement plan that is updated every couple of years. The recently released local health improvement plan identified prioritized addressing disparities in three specific health areas," she explained.
Those priorities are adverse childhood experiences, Type 2 Diabetes, and mental health.
The county will commit $350,000 in ARPA funds to advance these priorities… specifically Diabetes.
The vulnerable residents of Frederick County will also receive help.
"A third program I'm going to announce today will also help another vulnerable part of our population in Frederick County, and that's seniors who need help getting nutritional food. Now, the county's Senior Services division offers four types of nutrition programs. They offer Meals on Wheels, Home Delivered Meals, Groceries for Seniors, and Emergency Meal Assistant Programs," she explained.
During the pandemic, the demand for these programs rose rapidly and exponentially… which stretched staff and resources.
"So today we're dedicating $160,000 of our federal funds to purchase 5 vehicles for the nutrition program so we continue to take care of our most vulnerable citizens, our seniors, and make sure they have the nutrition they need to stay healthy," Gardner said.
Frederick County will use some ARPA money to support housing for the vulnerable and one non-profit is receiving funds.
"Habitat For Humanity offers a program to repair, make home modifications so that people can remain in their homes. This program targets veterans, disabled individuals, seniors, and low-income households. So Frederick County will put $250,000 towards Habitat's Home Repair Program," she said.
That number could expand if Habitat For Humanity can handle a larger load.