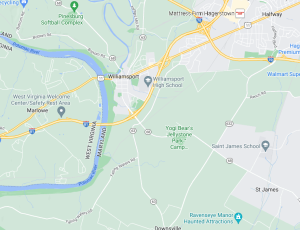 One of the passengers suffered life-threatening injuries
Hagerstown, Md. (DG) – Two drivers under the influence of alcohol were involved in a serious accident early Sunday morning in Washington County.
At around 3 AM, Maryland State Police responded to the call of an accident on Northbound Interstate 81 at mile marker 2. Witnesses told 911 operators a Dodge Ram pick up truck was involved in the accident and left the scene. Troopers responding saw the truck with heavy front end damage. It was stopped on the ramp from 81 Northbound onto 70 Westbound.
Two men were in the vehicle, and the 27-year-old driver from Virginia was arrested for DUI and taken into custody.
Troopers arriving on the scene of the accident found a second vehicle, a Dodge Caliber, with three people inside. Police report the 25-year-old female driver from Pennsylvania was under the influence of alcohol. Her front seat passenger, a 33-year-old male from Pennsylvania, was seriously injured and taken to Shock Trauma in serious condition.
The backseat passenger, a 20 year old from West Virginia, was transported to Meritus Medical Center with life-threatening injuries.
A preliminary investigation revealed the pick up truck was traveling at a high rate of speed when it hit the rear of the Dodge. The accident is under investigation, and the Washington County States Attorney's Office is assisting.