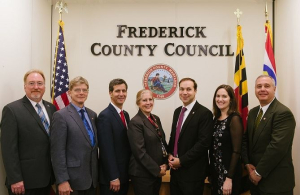 The Council is expected to discuss this issue on Tues., Mar. 22nd.
Frederick, Md (KM) Face-to-face meetings of the Frederick County Council could be returning. Council President MC Keegan-Ayer says she and her colleagues will be discussing such a proposal at their meeting on Tuesday, March 22nd. She says the Council has discussed reopening its l meetings to the public late last year, and Councilmembers Steve McKay, Phil Dacey Kai Hagen drafted a proposal.
"We discussed it in the beginning of January. The Councilmembers made recommendations to tweak the proposal slightly. Councilmembers McKay, Dacey and Hagen apparently went back and tweaked. They brought forward a new modified proposal," she says.
Since the COVID-19 pandemic began in early 2020, the Council has been meeting virtually. If face-to-face meetings resume, Keegan-Ayer says there will probably be some spacing between citizens who show up to watch the proceedings and get up and offer comments. "One of the discussions will probably be spacing and possibly limitations of numbers of people in the buildings. That was one of the discussions that took place back in January, and I think Councilmembers feel very strongly that there needs to be some spacing."
During virtual meetings, citizens have the opportunity to call in their comments to the Council. "We will keep the virtual component for a while. So the public can still watch from home and still call in and give us public comment from home because that seems to be something the public—now that they've gotten used to it—they actually do like being able to sit at home and just pick up the phone and call us and give us their comments and then on about their business," says Keegan-Ayer.
The Council is expected to decide on resuming face-to-face meetings on March 22nd. As to whether now is a good time to resume face-to-face meetings, Keegan-Ayer says "I think it is time as long as we do it in a thoughtful way, and we reach a consensus as a board."
Council President Keegan-Ayer was asked what will happen if a new variant of COVID-19 shows up. "So if we another variant that proves to be as virulent as Delta or Omicron, I will probably be bringing forward and we'll have another discussion," she says. "Depending of how it looks, we may not go completely shut down but we may further restrict the public as far as numbers and spacing and that kind of stuff."
By Kevin McManus