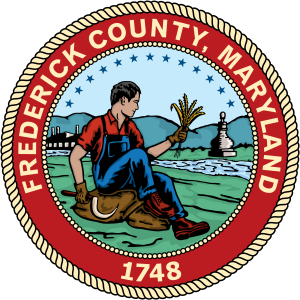 The Council discussed that Tuesday night.
Frederick, Md. (KM) – The Frederick County Council is considering legislation to revamp the Board of Health.
The measure discussed on Tuesday would set up a nine-member panel consisting mostly of persons with scientific backgrounds: The legislation says one member would be a veterinarian licensed by the Maryland Department of Agriculture; one person with experience in environmental health; an infectious disease specialist; someone with a behavioral science background; three would come a public health or scientific background; and a County Council member. The County's Health Officer would also be a member. Eight of these people would be appointed by the County Executive and voted on by the Council.
Under this bill, the Board of Health could issue regulations which go into effect when passed. The regulations may not be modified by the County Council, but they could be rescinded.
The current Board of Health consists of the County Council and the County Executive, and is chaired by the Health Officer.
Councilman Phil Dacey said he "disagreed with the whole concept," and felt it took power away from elected officials. "Taking those decisions away from the elected body where they should be–with a public hearing, people to weigh in both sides–you're granting them to a bunch of scientists who are not tasked with making political decisions. These scientists are tasked with looking at science and making judgments based on the scientific method,": he said.
Council Vice President Michael Blue says he would like to hear from experts when it comes to medical issues. "Having medical professionals be the ones to make these decisions and with us granting our approval or not approval, is the hybrid other counties may look to," he said.
During Tuesday's meeting, Councilmembers also discussed making changes to this legislation. Councilman Steve McKay proposed that any regulation approved by the Board of Health have a specific date when it takes effect. "But I'm more concerned about the fact that something going to take effect that night and then three or four days or five days later get rescinded. And now we're just really causing too much consternation and confusion to the public," he said.
"I see what you're saying,:" Councilman Jerry Donald, whose one of the sponsors of this bill, responded. "I'm really hoping that we're appointing people to these things that are going to make logical decisions."
Donald said he will be revising bill to include a date specific when any regulation approved by the Board of Health goes into effect. The revisions would also require the Board to adhere to the Open Meetings Act, and the public be allowed to comment prior to the Board voting on any decision.
The legislation is expected to be formally introduced to the Council at a future date.
Electric Vehicles
The Council also took testimony on legislation covering electric vehicle charging stations in new homes. The bill would require residential developers to put conduits inside of new homes which connect to a electrical panel. This would allow a new home buyer to have the wiring installed for charging an electric vehicle at that the time of purchase, or at a later date. But the wiring itself would not be installed unless the home buyer requested.
Patrick Shemp from Monrovia testified against the legislation. "Quite frankly, I would think it's entirely too early to make a decision on this simply because technology does move quick," he said. "What's going to happen in ten or 20 years? No one knows for sure."
Tommy Davis from New Market is a master electrician whose busy installing these systems in homes. "A lot of people are going with EV's now," he said. "And the infrastructure for installing the wiring, I strongly support that."
The Council is expected to decide on this legislation at a later date. If it passes, it would only cover new single family detached homes, and town houses and duplexes having an on lot parking area. It would not cover mobile homes.
By Kevin McManus