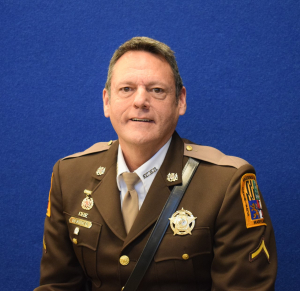 Dfc Kenny Olander died last week following an illness.
Frederick, Md. (KM) – It was solemn ceremony held on Tuesday for Frederick County Sheriff's Deputy Kenny Olander, who died last week following an illness at the age of 61.
Family, friends, fellow deputies and other law enforcement officers gathered at St. John the Evangelist Catholic Church in Frederick to say goodbye to Dfc Oland. Sheriff Chuck Jenkins delivered the eulogy, calling Olander "a genuine person." "Ken had a great personality with a big smile and a laugh you can't forget. He was a good natured as anyone I can think of, and I can't think of a single time, not once, where he had anything bad to say about anybody, ever," he said. "He had a great temperament, he valued his friend, and Ken was a man of integrity and good character."
Jenkins recounted how he and Olander joined the Sheriff's Office at the same time in 1990, and had to drive a long distance back and forth each day for training with the Harford County Sheriff's Office.
Deputy Olander spent 32 years with the Frederick County Sheriff's Office and was still a deputy when he passed away. He served as a patrol operations deputy, in the traffic unit, as a school resource officer and was a community deputy for the town of Myersville, which was his final assignment.
The Sheriff also recalled Olander's time with the narcotics section 2000–2002. "So he was assigned into narcotics where the big transformation happened. So he really came into his own there. He become Kenny O. He was the guy with the long hair, the leather jacket, the laid back look. He was the undercover guy, and I really think he believed he was Sonny Crockett," Jenkins says. "Sonny Crockett" was a character on the TV show "Miami Vice."
Dfc Olander was a long time Drug Recognition Expect (DRE) within the state, and served as the lead DRE for the Frederick County Sheriff's Office.
Deputy Olander was laid to rest at St. John's Cemetery in Frederick. He leaves behind his wife, Samantha, and his three children Bailey, Hugh and Sophia.
The funeral service was conducted by Monsignor Michael McCarron, the pastor at St. Thomas Moore Catholic Church in Lynchburg, Va.
By Kevin McManus