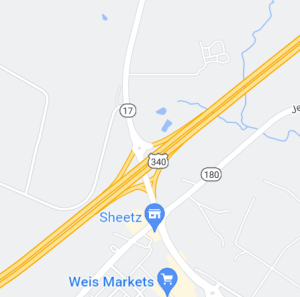 The woman was killed near Rt 17 in Brunswick
Brunswick, Md. (DG) – A woman was hit and killed while on the shoulder of Route 340 in Frederick County on Saturday.
Maryland State Police responded to 340 westbound at Route 17 shortly after 4 PM for an accident involving a pedestrian.
Investigators are reporting 69-year-old Iva Hermus, of Staten Island, New York, was driving a Hyundai Accent and decided to pull over onto the shoulder to due to strong winds and snow so her passenger can continue to drive.
When Hermus got out of the vehicle, the driver of a Honda Accord, which was also traveling westbound, lost control of his vehicle.
The Honda went off the roadway and struck the Hyundai, which then hit Hermus.
Trooper 3 responded to the scene and flew Hermus to Shock Trauma in Baltimore, where she later died from injuries.
The driver and passenger of the Honda were taken to Frederick Health Hospital for non-life-threatening injuries.
The passenger of the Hyundai sustained minor injuries from the accident.
Route 340 was shut down for less than an hour as a result of the crash and snow build up on the roadway.