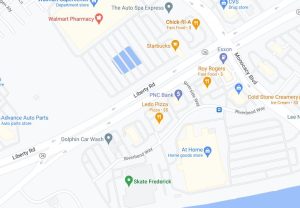 The crash closed Route 26 at Monocacy Boulevard.
Frederick, Md. (NS) – Maryland State Police are investigating a two-vehicle crash that resulted in serious personal injury this morning in Frederick.
At around 8:15 a.m., Troopers were sent to Route 26 at North Market Street for a crash with injuries.
Investigators found that a Kia Forte, driven by Edward Rudegeair, 49, of Walkersville, was making a U-turn and a Toyota Corolla, driven by Maria Aide Ordonez Hernandez, 30, of Walkersville, who was traveling on Route 26 eastbound, stuck the passenger side of the Kia.
Ordonez Hernandez and a juvenile passenger in the Toyota were flown to John's Hopkins Children's Center in Baltimore.
Rudegeair and another passenger from the Toyota were taken to Frederick Health hospital for their injuries.
Eastbound Route 26 was closed for about two hours while first responders were on scene.
The cause of the crash is still under investigation.