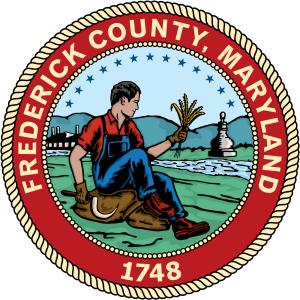 A vote is expected on May 17th.
Frederick, Md. (KM) – A Hazardous Mitigation and Climate Adaptation Plan is expected to be adopted on Tuesday, May 17th by the Frederick County Council.
Jack Markey, Director of the Division of Emergency Management, says it took a year to put together this plan which is 1,458 pages. "We had active involvement from every one of Frederick County's municipalities, Hood College, Frederick Community College, Mount Saint Mary's, our allied state agencies that work in these same subject matter areas, Maryland Department of Emergency Management, and others," he said.
The plan's purpose, Markey says, is to asses the communities' vulnerability to natural hazards; prepare a long term strategy taking into account climate change; and reduce and possibly prevent future loss of life and property, or environmental damage. By adopting this plan, it will allow the county to have access to federal and state grant funds for community or infrastructure projects, according to background materials on the plan.
"Having a fully adopted Hazard Mitigation Plan clears the way for us to be able to rapidly recover in the event that we should suffer presidentially declared disasters which we do on a fairly regular occasion, unfortunately," he says.
Markey also says this document addresses climate change, and its impact on Frederick County. He says the county has been affected by heavy rain and snow in past years. "What the science is telling us is we are seeing more energetic storms, greater rainfall rates, snow fall rates like we saw in 2010 with 'snowmagedden,'" he says.
The plan also incorporates the Livable Frederick Plan; state, county and municipal codes and ordinances, including ones covering floodplains; the Climate Emergency Mobilization Workgroup Final Report (2021); federal, state, and local mitigation planning guidance; the Metropolitan Washington Council of Governments 2030 Climate and Energy Action Plan; FEMA RiskMAP Monocacy Watershed Discovery Report (2014); and FEMA CRS-Disaster Mitigation Act of 2000 Mitigation Planning Requirements, according to the background material on the Hazardous Mitigation and Climate Adaptation Plan.
Markey says plan covers natural disasters like heavy rain, blizzards, hurricanes and other emergencies. But it does not cover how hazardous materials are shipped and stored in the County. He says those chemicals are regulated by other government agencies. "The same principles apply. We're looking to reduce risks and prevent things from occurring. But it's just a different set of planning groups," he says.
He says the Federal Emergency Management Agency has given Frederick County's Hazard Mitigation and Climate Adaptation Plan conditional approval, and considers it a model plan for other jurisdictions.
By Kevin McManus