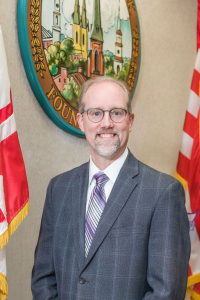 City officials say he's self-isolating at  his home.
Frederick, Md. (KM) – Frederick Mayor Michael O'Connor has tested positive for COVID-19. City officials say the Mayor is self-isolating at his home, and will work remotely until he's officially cleared to return to City Hall. He's experiencing mild symptoms of the virus, and remains in good spirits. He did not chair Wednesday's Board of Aldermen Workshop.
In a news release, Frederick city officials say the Mayor continues to follow CDC guidelines regarding testing to safeguard the health and well being of colleagues, and residents he encounters. He's also working with contract tracers to notify individuals he came into contact with earlier this week.
"This serves as another reminder of the seriousness of this global pandemic and the ongoing challenges that remain," Mayor O'Connor says in a statement. "Despite being vaccinated and boosted and our community being in a state of low transmission, breakthrough infections still remain a real concern.
Mayor O'Connor says he continues to support vaccination efforts throughout Frederick, and urges everyone to take steps to protect their health and well being.
By Kevin McManus