Mayor O'Connor said the project is on the front burner.
Frederick, Md. (NS) – Creation of the downtown Frederick hotel and conference center is back in focus. Frederick Mayor Michael O'Connor joined WFMD's Morning News Express on Tuesday and said progress is currently being made, and more steps will be taken in the coming months.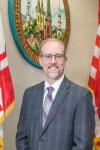 "We should be seeing plans coming forward for level 2 approval here before the fall, and then to the Planning Commission, and so, that project is back on the front burner," said O'Connor.
The Frederick City Aldermen accepted $2.5 million from Frederick County to add to the $1.18 million that was already set aside by the city to fund the purchase of the land along East Patrick Street near Carroll Creek for the hotel.
The Plamondon Hospitality Partners group will develop the project and take on all risks from building and operating the hotel.
It is expected to have 22,000 square feet of conference space, 200 rooms, an on-site parking garage, restaurant and retail space, and a rooftop lounge.