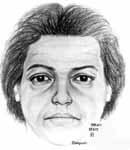 One is the body of a woman found in a steamer trunk 40 years ago this week.
Frederick, Md. (KM) – A volunteer organization which assists families of missing persons is reminding Frederick County residents of two cold case anniversaries this week.
The Maryland Missing Persons Network says the body of a woman who was found in a steamer trunk at Frederick Watershed has still not identified. "She was found on August 24th, 1982 by some mushroom hunters who were walking through the Watershed area on Gambrill Park Road," says Kat Johnson with the Network. "They noticed apparently a foot hanging out of the steamer trunk."
Johnson says this women is believed to be between 17 and 27 years of age, but could be as old as 45. It's estimated she had been there for at least a few months, but may have died ten year prior. An anthropologist concluded that she had back and feet issues that correspond with spondylolysis, and had extensive dental work.
She is estimated to five-foot-three, weighing between 100 to 130 pounds.
"Since 1982, the case has been on 'America's Most Wanted.' It's been on 'Cold Case Investigations.' It's been on 'The New Detectives' and other crime solving groups like that. And they still haven't found out who she is,": says Johnson
Another Frederick cold case being spotlighted this week by the Maryland Missing Persons Network involves William Brooks, age 17, who disappeared on August 24th, 1992. Johnson says Brooks left his father's home to go an appointment,. but he never arrived. "There's been suggestions that they believe foul play was involved," says Johnson. "I've also seen things that he may have traveled to Hagerstown or New York. I'm not sure. I've never actually been able to find out why they assumed that. He's never been found There's never been anything that's turned up about him."
Even though a lot of time has passed, Johnson says it's still possible to solve these cases and bring closure. "A lot of these cases are actually being solved left and right with forensic genealogy," she says. "They're basically taking DNA samples and they're basically just tracing it back through genealogists."
She also says social media can be a big help. "A lot of these cases, believe it or not, are solved by social media. I'm aware of several cases where cyber-sleuths have just gotten together and they kinda like research a case," says Johnson.
Both of these cases are being investigated by the Frederick Police.
The Maryland Missing Persons Network is a volunteer group which assists families of missing persons, and helps police solve these cold cases by cross matching missing persons profiles with unidentified remains. The organization says it also put together public searches for missing persons and brings media attention to cold cases.
By Kevin McManus