Some industries are still struggling to hire workers.
Frederick, Md. (NS) – Frederick employers are desperate. That's according to Frederick County Chamber of Commerce President Rick Weldon who said there are far more jobs available locally than there are workers.
"There's always been a number of job opportunities on the Maryland job services site, and even here locally, but, nothing like we see now," said Weldon.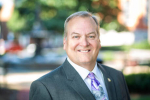 He said, across the board, hiring numbers are up, but the hospitality, food service, and retail industries have not recovered from the pandemic.
"They are still struggling every single day. They are still offering significant cash incentives for employees to stay at work, to come back to work, or to take a job and stay employed for a couple weeks in order to receive a cash bonus payout," Weldon explained.
Weldon added that inflation and a possible pending recession are reasons for concern.