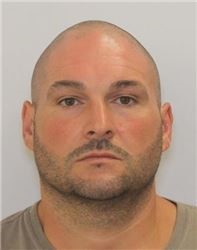 The suspect shot a roman candle at one victim and then struck him with his vehicle
Frederick, Md. (DG) – A 43-year-old Frederick County man is under arrest for shooting fireworks at a group of people, and resisting arrest early Saturday morning in Emmitsburg.
Frederick County Sheriff Deputies responded to the 15,600 and 15,800 blocks of Old Frederick Road at 1:15 AM after receiving calls about a hit-and-run collision, and a possible armed robbery in progress.
Witnesses say Aaron Dove had been to the home several times that evening. At one point, he shot a Roman candle firework at a man in the chest. Dove then ran over the victim's foot with his vehicle. He also struck another parked vehicle.
Once on scene, deputies saw Aaron Dove shooting fireworks from his vehicle at several people and a home on Old Frederick Road. Dove ignored police, and left the area.
Police used stop sticks to get Dove to stop his vehicle. Dove was wearing a tactical vest and helmet and resisted arrest. Police used a taser, OC spray, and a less lethal sponge round to remove Dove from the vehicle.
His vehicle was searched and police found numerous illegal aerial fireworks, a high-powered pellet gun, and numerous knives.
Dove has been charged with assault, reckless endangerment, resisting and interfering with an arrest, malicious destruction of property, negligent driving, and reckless driving.