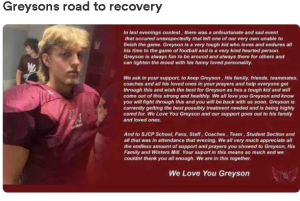 The high school student went in for a tackle and did not get up.
FREDERICK, Md. (BW)- A Winters Mill High School football player was flown to Shock Trauma in Baltimore during the second quarter of a game against St. John's Catholic Prep on Friday, Sept. 2.
The game was the first to be held at St. John's new stadium.
Greyson Lyons, a defensive lineman for the Winters Mill Falcons, did not get up after making a tackle.
According to a GoFundMe page for Lyons, his heart had failed.
https://www.gofundme.com/f/5ex46g-greysons-road-to-recovery
Lyons was revived through chest compressions and a defibrillator.
He was flown to Shock Trauma and his heart failed again. Medical personnel were able to revive him.
Lyons continues to be treated at Shock Trauma.
Doctors are still investigating what caused his heart to stop.