Hagerstown, MD (RH) Maryland resident and political activist Sharon Strine remembers the characteristics of Dan Bongino's 2014 U.S Congressional campaign. The race was close and heavily influenced by a gerrymandered district. Ultimately, Bongino lost to incumbent John Delaney by 1.5 percentage points.
Lots of lawsuits and eight years later, Strine is managing Neil Parrott who's vying for the same U.S. House of Representatives seat that eluded Bongino.
Parrott's tireless legal fight to change the voting maps has finally paid off. His argument centered on county boundaries. The district he hopes to represent consists of Garrett, Allegany, Frederick, and Washington counties.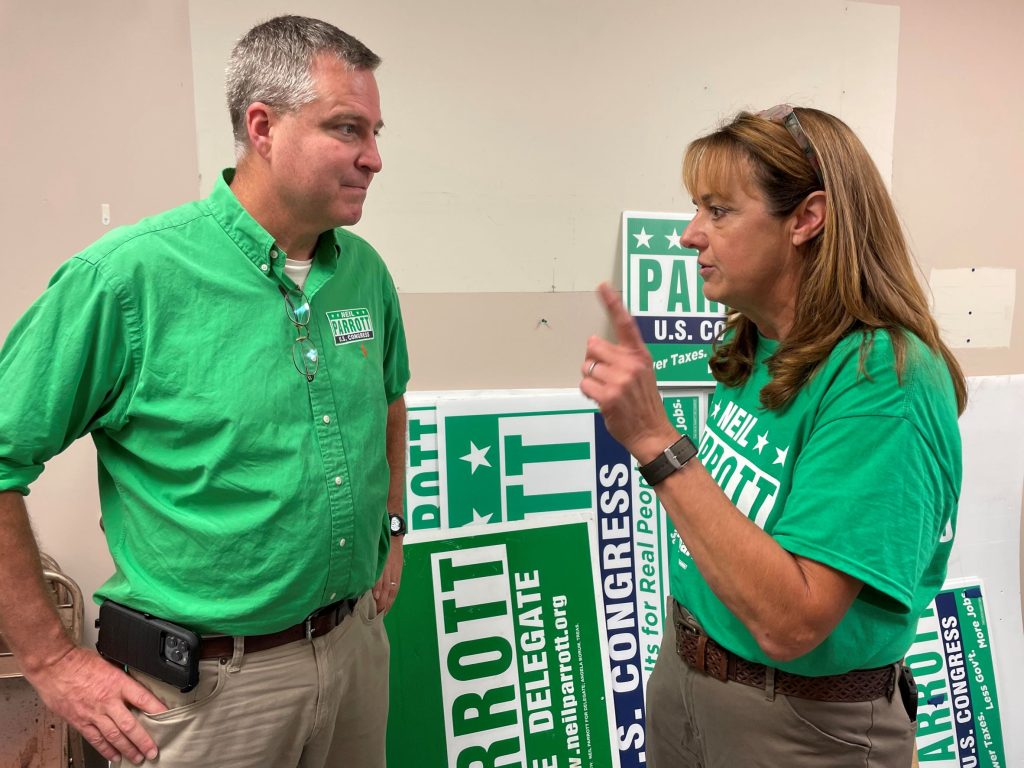 The district also consists of a portion of Montgomery County where nearly 80% of the people voted in the 2020 presidential election were Democrats.
With the legal wrangling of a gerrymandered district in the rear-view mirror, Parrott and his tenacious campaign manager have embarked on an aggressive ground campaign with the lofty expectation of defeating Democratic challenger David Trone in the upcoming midterms.
Strine told WFMD that the strategy for beating Trone is like the one that Bongion used eight years ago.
"We knew we were never going to raise the same amount of money that Delaney had, so we put together a really phenomenal ground game," said Strine.
On the day that we caught up with Parrott he was attending the opening of the Washington County GOP headquarters in Hagerstown.
Parrott left that event and hustled to several other local events scattered across the Mid-Atlantic region.
"We have 12 different events going on in the district today," said Strine. "And we have volunteers at every single one of those events, talking to people all in the green team shirts, they have our bumper stickers and our information."
On Saturday. Parrott visited Boonsboro, Hagerstown, Frederick, Thurmont, and Damascus. He also managed to sneak in a church event with people closest to him.
Strine said that she sees several similarities between Bongino and Parrott. Her decision to get involved in politics was born from her desire to make a difference.
"I believe the work that we have done together is making a difference," Strine said. "Look at what Bongino has done since he lost, this work is making a difference."
As Americans face unprecedented challenges stemming from soaring prices amid rocketing inflation, Parrott believes this race is an exciting opportunity given with Congressional that are more in line with the voters he represents.
"What's happening with the ground game is that our volunteers are on fire. they're seeing that this is a great chance to win the seat, and this is a great chance to get our country going in the right direction," Parrott said.
"It's interesting, he (Trone) was part of the majority party, and he had a chance when they passed the infrastructure bill to get money for I-81, to get money for 270 and I-70 and he didn't do it. But with me in Congress I will be fighting every day to make sure the people of this district get what they need," he said.
Strine added that Parrott has Bongino's full support.
"He (Bongino) told me that I would be an idiot not to get involved in this race," she added.