He urges visitors  to report anything suspicious to a security guard or a deputy.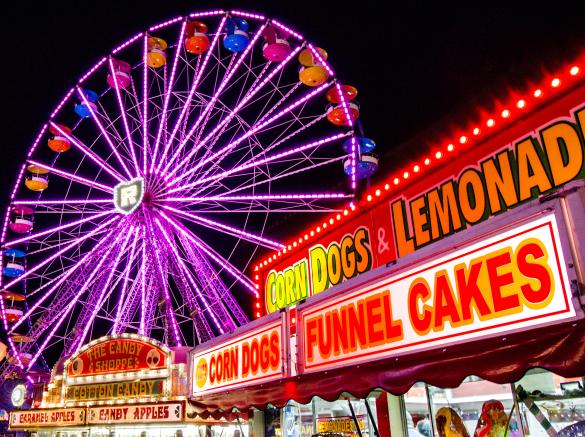 Frederick, Md (KM) It's safe for you and your family to come to the Great Frederick Fair this week. That's according to Sheriff Chuck Jenkins, despite two fights which occurred there last weekend.
According to the Sheriff's Office, deputies were directing  traffic at the main gate on Saturday night when a group of juveniles began to form inside the gate. Deputies and security officers from Deanovich & Associates began to move the crowd outside. of the Fairgrounds. A fight occurred within the group, and deputies took the primary aggressor into custody. The crowd tried to interfere, but one deputy used OC spray against them. The crowd then dispersed, and deputies cleared the scene.
After that arrest, the Sheriff's Office says, another crowded forms. One girl  struck a deputy in the chest while that person was keeping the crowd away. She and a boy from the previous fight were charged as juveniles.
"This could have gotten chaotic really quickly,": says Sheriff Jenkins, who was a guest on Monday on WFMD's "Morning News Express."  "But for the quick reaction of the deputies that were there on the scene, at the Fairground, the security company, they were able to get it calmed really quickly."
He also asked if there was any evidence of gang activity. "Nothing to that affect. No. And listen, just so the public knows, there was no display of firearms or any type of weapon. So no concerns at this point, there,"; Jenkins says.
For anyone who makes trouble at the Fair, there are consequences, including being banned from the Fairgrounds, the Sheriff says. "Now, you can be trespassed for the entire week. So if you cause us a problem from here out–I don't care who you–if you don't abide by the rules of the Fair Board, and you cause a problem on the Fairgrounds, you're off for a week," he says.
"The Great Frederick Fair is a very safe place. It's a great place to take your family and enjoy the day, enjoy the rides, the farm equipment, the animals," Sheriff Jenkins continues. "But if you see something, report to security or my men."
The Great Frederick Fair runs through Saturday.
By Kevin McManus