It will hire 32 additional fire fighters and EMT's to the County's fire service.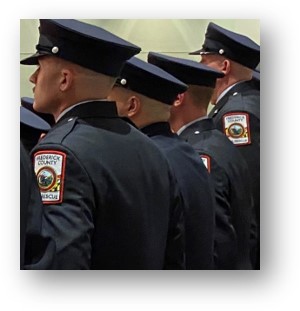 Frederick, Md (KM) Frederick County is receiving an $8.5 million SAFER grant from the US Department of Homeland Security. That announcement was made Friday morning during a news conference by County Executive Jan Gardner. "The grant will allow Frederick County to add 32 uniformed fire fighter/EMT's to our Division of Fire and Rescue Services. This will bring the total number of career fire fighters to 572 positions,:" she says.
SAFER stands for Staffing for Adequate Fire and Emergency Response program.
Gardner says this SAFER grant will let the county increase staffing on fire and rescue apparatus from three to four. "This isn't just about numbers. It's about improving the safety for our fire fighters who are on the front line, and improving the safety of our community,": she says. "Our goal is to make a dangerous situation as safe as possible for everyone involved."
Chief Tom Coe with the Division of Fire and Rescue Services says having four people on a fire truck or a ladder truck can make a big difference. "In our business, time can mean the difference between life and death," he says. "And four-person staffing scientifically has proven to perform more efficiently in critical tasks like search and rescue and putting water on a fire."
Expressing his support was Stephan Jones, President of the International Association of Fire Fighters Local 3666 in Frederick County. "There have been tough time for members and families over the last year with the loss of Battalion Chief Josh Laird," he says. "The funding of these initiatives starts to directly address the recommendations and findings that are outlined in the line-of-duty death report released last month. This funding will enable us to strengthen our fire service and make our communities safer for the residences we serve."
Also voicing her support was Sara Laird, the widow of Battalion Chief Josh Laird. "Josh loved serving Frederick County Citizens. And every one of these dollars will go not only to protecting fire fighters and first responders, but also to protecting the citizens of Frederick County."
Following the line-of-duty death last year of Battalion Chief Josh Laird, who was fighting a house fire  in Ijamsville, an external review panel looked into the incident and came up with 137 recommendations. One was to staff each fire and rescue apparatus with four people instead of the current three.
County Executive Gardner said she will use some of the remaining American Rescue Plan Act funding to pay for the other recommendations in the external review panel's report. They include additional training; improved markings on equipment and apparatus; purchase of 55 additional thermal cameras;  antidote kits to reverse the affect of smoke inhalation;  and reprograming of radio consoles and the  installation of a digital repeater system to improve communications. Another recommendation calls for the creation of a more robust health and safety office within the Division of Fire and Rescue Services.
Acceptance of the SAFER grant must be approved by the County Council.
By Kevin McManus