It would allow golf carts to be operated on some county roads.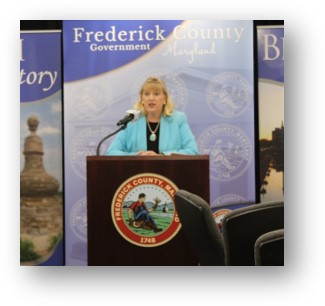 County Executive Jan Gardner
Frederick, Md (KM) A request from the Town of New Market to allow golf carts to be operated on some county roads will not be part of the Frederick County 2023 Legislative P package. That announcement was made Thursday night during a Legislative Town Hall. "First and foremost are safety concerns about having these types of vehicles, golf carts, sharing the roads with cars and trucks,"; she said.
Golf carts are permitted on roads in the Lake Linganore area that are owned by the Lake Linganore Association, and some designated trails. But many of these roads cross over county roads. "Because the bill as written would apply to all roads with a speed limit of 35 miles an hour or less, that's 700 miles of roads in Frederick County, and it will require a substantial amount of staff time and energy to evaluate these roads for that purpose," Gardner says.
In addition, Sheriff Chuck Jenkins was opposed to the bill last year, and Gardner says the Sheriff has not changed his mind on it. "When I made him aware of this request, Sheriff Jenkins made it clear he remains opposed to this legalization for a number of traffic safety reasons," says Gardner. "Sheriff Jenkins noted that his office already deals with many traffic complaints daily, having to do with speed enforcement and aggressive driving."
Gardner outlined other bills in the 2023 Legislative package, including  one to keep the state's long standing forest banking program in place until 2024 so that existing forested lands can continue to be preserved. The County Executive also has legislation to require  polygraph tests for employees with the Division of Public Works who are stationed at the Adult Detention Center. She says it would improve security for all of those who work or are detained there.
The County Council has submitted a bill increase the marriage license fee to $85. It currently stands at $75. Gardner says $10 is the fee authorized by the state, and the current $65 is surcharge which is distributed to domestic violence programs. In Frederick County, that would be Heartly House.
A small number people attended the town hall. One was Kerri Helsey with the Sierra Club Catoctin Group, who said Maryland needs a bottle bill. In past years, people who bought a soft drink or a bottle of water paid a deposit along with the price for the drink. When they returned to the bottle to the store, they received their deposit back.
"Ten states have done it,  and the litter is markedly decreased in those states because beverage bottles comprise about 40 to 50-percent of litter on the road," Helsey says. "Those states that did surveys reported a litter reduction of 70 to 83-percent of bottles, and an overall decrease in litter of 30 to almost half."
The 2023 Maryland General Assembly convenes its 90-day session on Wednesday, January 11th, and adjourns for the year on Monday, April 10th.
By Kevin McManus